Day 8 - Alcan Winter Rally 2004 Itinerary
Previous Day | Back To Alcan Info | Next Day
Day 8, February 25, 550 miles
Destruction Bay is about 130 miles from the Alaska border. Crossing this border back into the US you can look north and see miles of the shaved strip that defines the boundary going up over the hills. We make a straight shot toward Fairbanks today. At Delta Junction we see the Trans Alaska Pipeline for the first time. The 800 mile pipeline heads south from Delta Junction to Valdez and north through Fairbanks to Prudhoe Bay. Near Delta Junction is an interesting feature of the pipeline where a suspension span allows it to cross the Tanana River.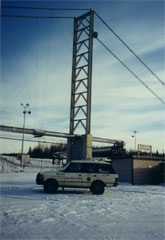 During the day today we'll have our first scored TSD section in Alaska. We may even see two TSDs.
As we reach Fairbanks we'll make a 55 mile side trip to Chena Hot Springs, site of the Aurora Ice Hotel -- the first ice hotel in the United States. We won't be staying here (they only have six rooms) but will get a quick tour before heading to a WARM hotel in Fairbanks.
Fairbanks will be the largest city we've seen on the trip since leaving home and we overnight at the Captain Bartlett Inn.
Day 8 (57K):

or watch the animated map for Day 8 (258K)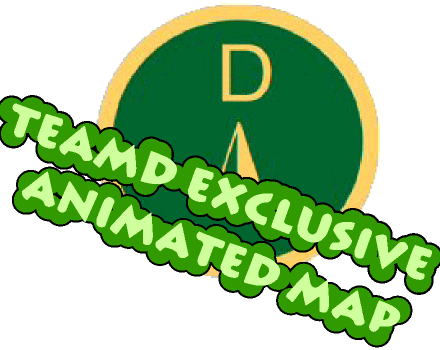 Weather Along the Way: