A Definition that Defines TeamD
rally [ral-ee] verb,

to organize or inspire.
to call together for a common action or effort.
to participate in a long-distance automobile competition.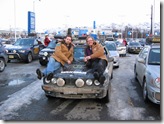 We were young and eager, setting out on the road for a long drive. We barely knew what a rally was except a long-distance automobile competition with a bunch of new terminology and math. All we knew was that it was a driving adventure to the frozen North, the Alcan Winter Rally. Along the way we discovered rallying was fun; we survived and were inspired. That was the beginning. Our rally exploits have taken us many places. Along the way we found other modern adventurers, drawn to the road, seeking something, looking for a challenge. TeamD evolved from this protoplasm; a unique and multi-faceted group of individuals called together for a common purpose, to seek out and conquer challenges and hopefully become famous along the way.
History
TeamD started out in 1999 as the rally team of Steve Willey and Eric Horst. Formed to contest the Alcan Winter Rally in 2000, Steve and Eric were propelled into a world they never knew existed — the rally world. Over time TeamD grew as Steve and Eric introduced friends new and old to the rally world. Today, TeamD is more than two individuals ever could be. Together with friends, new and old, we facilitate fun for all involved. Lately it's been road rallies, tomorrow, who knows. Are there limits? We're going to try to find them.
The People
Hans Adomeit
Hans began TSD rallying in 2006, bringing extensive autocross experience with him, including a 2nd place seasonal points finish in a regional Northwest series — a late-season transmission failure denying him the podium. Hans's nearly lifelong addiction to Saabs (he has owned nothing else in 20 years of driving, save for a short stint with a wagon from the other Swedish car maker) complements Dan's TSD efforts in his intrepid '85 900 Turbo. Having recently completed the venerable Thunderbird Rally in B.C., he gained valuable navigating experience and impressed more seasoned competitors with his ability to consume huge amounts of diner food without the slightest protest from his stomach while on-course.
Dan Comden (KC7SKZ)
Convinced rallying with TeamD was a Good Idea back in 2001, Dan has competed in a variety of vehicles, some suitable and others less so (i.e. terrifying). After discovering a propensity to either experience catatonia or echolalia in the navigator's seat, he tries to stay behind the steering wheel. He is known for: a lack of mechanical and numerical sense, a developing tendency to dis AWD cars, and for wearing out navigators about as often as he changes gears.
Marvin Crippen (KD7WMU)
Two time PCC Champion and someday world champion, Marvin has been rallying with TeamD since 7/2001.
Marinus Damm (K7AWD)
Marinus began rallying in late 2005 after seeing an advertisement in the newspaper for a local car club. He finished in the top 10 overall in 2007 in Totem, Sno-Git, NOBM and Armageddon. Outside of rallying he enjoys working on cars, motorcycling, bicycling and making his wife smile. [Hey, how did THAT get in there!]. His favorite movie is "Henry V" and will quote passages on occasion. He dislikes boxer motors, but will enjoy a debate with you over a glass of single malt. Half of TeamD's novice Alcan entry.
Renee Damm (KE7OTR)
Renee caught the rally bug in 1974 when she saw an episode of "McMillan and Wife", but did not start rallying regularly until 2005. Nicknamed "Math Girl", she takes her place in the navigator's seat. But, she has been known to drive the beloved BMW 325iX, affectionately known as Marilyn, on occasion. When not rallying she enjoys cycling, riding roller coasters, shooting pool, and dancing the Tango. Half of TeamD's novice Alcan entry.
Eric Horst (KA7OBN)
This northwest native has been driving and co-driving rally cars since he knew what they were. He loves rallies that challenge his driving skills and any rally with lots of gravel or heaps of snow. Eric is the owner of a pair of BMW 325iX'es, one for play and one for work. Eric wrote his first Friday Nighter trap rally in September of 2001 and wears the scars of several more.
Jeff McMillen (K7YHF)
Tricked into his first rally in 2002 by Dan Comden, Jeff was seduced by the scenery, the camaraderie, the joie de vivre, and the challenge of precision driving and has participated in every major event in the Northwest since. He joined with Marvin Crippen late that year and they jumped headlong into the fray. 2003, their first full season, saw them on top of the podium for the Pacific Coast Challenge (an international touring rally series that has hosted grueling two days events in California, Oregon, Washington, and British Columbia on pavement, gravel, and snow). They repeated this feat in 2004 before moving from equipped to unlimited class to take second place in 2005 and 2006.
Stephen Willey Mats Mats (KD7GXO)
Steve has been rallying with TeamD since before TeamD existed. Having played the role of driver (before graduating to navigator), navigator, and rallymaster (event author and organizer) he understands TSD rallying from all angles. Outside of the car his interests include running marathons, amateur rocketry and cooking. His rally goals are to have fun and continue to hone his navigator skills. If he doesn't consider you his competition he would tell you that the trick to the game is [redacted]. Steve is also a past president of Rainier Auto Sport Club and the current Treasurer. He loves chocolate, splits where the mileage is exact, the color blue, and the fact that his own eyes are blue.