For years, I've run my 02 WRX in TSD events. And I loved it. Modern engine, all wheel drive, AC, etc. It was great. But it was also my daily driver and as wear and tear increased and the car started to show it's age, I entertained the possibility of following a few of my TeamD compatriots in getting a car I could dedicate to the cause. And in the back of my head wavered this seed of a thought, a small tickle in my fingers, the possibility that if I got a different car, perhaps one with a cage, I could consider a different kind of rally.
We've talked about the different types of rally before. TSD is Time-Speed-Distance rally which is a precision event. Teams try to match their car to the theoretical perfect Car 0 time and get points off for every second either fast or slow. Stage rally is a bit different. In sailing, TSD would be predictive log racing while Stage would be traditional racing. There's the same/simialr route book and notes but in Stage Rally there are no proscribed speeds and no theoretical Car 0. Roads are closed to traffic and the fastest car wins. In TSD, as the speeds are at or below the legal limit, no extra safety equipment is needed. Anyone with a daily driver can enter and be competitive in their class with minimum modifications and risk. In Stage rally, with high speeds and more risk, more safety equipment is required. Full roll cage, helmets and head/neck restraints, 5 point harnesses, etc.
So with that in mind, well not really in front mind but there nonetheless, I started looking around for a car that might be suitable for TSD and legal for Stage Rally.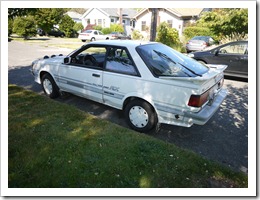 And after flailing around, I decided to buy Ron Sorem's venerable 1987 Subaru RX. At 25 years old, the car is getting up in years but it has a history. Back in the early 1990's Ron campaigned the RX in the SCCA Pro Rally series. This means that the car had a cage and seats and harnesses and all that already in place. But, it hadn't been run in many years and a number of updates were necessary. Still, undeterred, I bought the car and eased it (rusty brake rotors, sticky clutch, old tires, dead battery) back home. My wife immediately christened the car "The General Lee" and threatened to put a giant Confederate Flag on the roof. She's from New Zealand and has no real direct experience with the deep south as depicted in The Dukes of Hazzard but the name choice was partially a joke and partially a comment on the "rust bucket" state of the car.
Undeterred, I've slowly worked on the car, getting it back to a state that is serviceable. First a trip to TeamD sponsor Smart Service for a complete fluid replacement and some brake caliper service. Next a visit to new TeamD sponsor Speedware Motorsports for a new front driver's seat (replacing the old one that is still acceptable but the seat angle was not where I wanted it – so the stock mounts were removed and Speedware welded in new mounting points).
With the car back in shape, Marvin and I took it up to the 2011 Totem Rally. We made it through the weekend but the results were not as high as we have come to expect with the WRX. Much of that was due to getting familiar with the new car. And I guess I was unhappy with the exhaust system. So much so that I removed it with a snow bank.
After Totem the car took a trip back to the original cage builder, Dave Clark, to update the cage to current regulations. This required the addition of sill bars and Dave suggested some A Pillar supports as well which he added. While there, I had Dave redo the exhaust and chop up the stock steering wheel to make a mount for the new Sparco wheel.
Also somewhere in here I installed a Peltor headphone amplifier and a Terratrip 2 rally computer. Both components were added not for TSD rally but for stage rally. And I focused the car toward the 2012 stage season.
With all that done, we took the car back out to the 2012 Thunderbird Rally. And we did better. I was getting more comfortable with the car and Marvin was getting more comfortable with his uncomfortable navigator seat. But still there was more to do.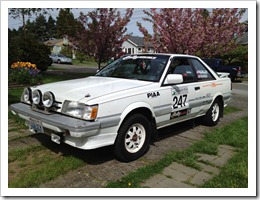 The main mechanical problem at Tbird was the front suspension. "Stiff" was how Ron had described it. But the coilovers felt more like steel bars than springs/struts. So the car went up on jack stands and I started the process of learning how all that suspension stuff was put together. I'm not very mechanically inclinded, focusing more on electronics than steel and fasteners, but eventually I was able to remove the coilovers and bring them over to JVAB Imports to be rebuilt. John of JVAB has built the system for the car back in 1992 and took on the job of rebuilding them. He sent the struts out to Bilstein to be revalved and tore apart the cylinders, welding on new fronts and doing all sorts of other magic. Now they are back on the car and the front actually moves around. It's like night and day.
So now the car is ready. And none too soon. The Oregon Trail Rally is this coming weekend. The decals are on the car. The wiring is complete. The suspension works. And Thursday morning we head down to Portland. More on that soon.