Spreading The Rally Word
Before leaving Anchorage, Eric answered questions from throngs of curious citizens. They were very interested in TeamD and all the cool technology in our sharp looking rally car.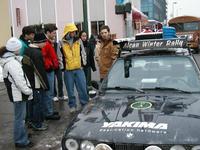 Posted by erich at February 28, 2004 12:09 AM

All RallyLog Entries Copyright © 1999-2004 TeamD. All rights reserved.