This is a Stick Up!
Two TeamD cars spent some quality indoor time today in the TeamD Vinyl Tech Application Center (V-TAC) in Lake Forest Park, Washington. Thanks to our great sponsors we had a difficult time choosing where decals would be applied as well as getting back in practice for getting the dang things to line up properly and not get messed up.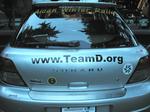 Steve contemplates his options.
We have stickers from 180, Yakima, McNamara Signs, and Wrangler Power Products. Of course the event itself has vinyl that we're required to use. We also had a few other decals we felt it important to apply as well. Many test arrangements were made and pondered.


The weather wasn't great when we began so being indoors was nice. After a few hours we were able to move outside for the last applications on the WRX. We took a bit longer due to our indecision and inexperience, but thanks to the vets we were able to get finished. Lack of sun didn't make for great photographs however, so you'll have to wait a day or two for those. In the meantime, here's a shot of the ix all purtied up:

Posted by danc at February 15, 2004 11:45 PM

All RallyLog Entries Copyright © 1999-2004 TeamD. All rights reserved.